Sale of land and price
Process of buying land
If you want to buy land and you know which one. There is only one way how to buy it. Firstly, you must to contacting us. Tell us your identity and which of land you are interested in. We prepare for you The Reservation Contract and send it to you by e-mail. You check it. When isn't be any problems, you might visit us in our office and describe Reservation Contract. When you describe Reservation contract you must to pay reservation fee. Reservation fee is part of the buying price (usually 50000 CZK). After you have described Reservation contract and have paid fee, we prepare for you The Purchase Contract and send it to your mail. You must describe it in our office, no later than 2 weeks from delivery to your e-mail . You must pay buying price (without reservation fee) to 10 days from description Purchase Contract. During the description Purchase Contract you must describe application for deposit in the Land registry, which is very important for transfer of ownership rights to property. For more information please contact us.
The price of lands included:
Sewer hook-up with inspection manholes
Gas fixture with HUP
Water hook-up
Electrical connection
The price of land for Family house construction from CZK 975 / m² + 21% VAT .
For more information or understandings visit please contacting us.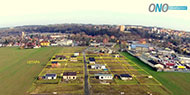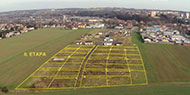 | | | | | | |
| --- | --- | --- | --- | --- | --- |
| Tab. No. | Stage No. | Parcel No. | Size (m) | Area (m2) | Status |
| 1 | I.Stage | 4838/71 | 34,5x29,8 | 1338 | Sold |
| 2 | I.Stage | 4838/32 | 34,5x28,0 | 658 | Sold |
| 3 | I.Stage | 4832/81 | 35,1x30,1 | 1055 | Sold |
| 4 | I.Stage | 4832/48, 4832/47 | 35,0x28,1 | 983 | Sold |
| 5 | I.Stage | 4832/18 | 39,0x24,0 | 937 | Sold |
| 6 | I.Stage | 4832/19 | 39,0x24,0 | 935 | Sold |
| 7 | I.Stage | 4832/50, 4832/45 | 38,0x28,7 | 1003 | Sold |
| 8 | I.Stage | 4832/80 | 37,9x29,7 | 1037 | Sold |
| 9 | I.Stage | 4838/34 | 23,32x28 | 653 | Sold |
| 10 | I.Stage | 4839/69 | 38,0x30,3 | 1061 | Sold |
| 11 | I.Stage | 4838/69 | 35,0x30,8 | 1078 | Sold |
| 12a | I.Stage | 4838/90 | 23,32x28 | 653 | Sold |
| 12b | I.Stage | 4838/35 | 23,32x28 | 653 | Sold |
| 13 | I.Stage | 4832/79 | 35,0x29,7 | 1041 | Sold |
| 14 | I.Stage | 4832/51, 4832/44 | 35,0x28,7 | 1004 | Sold |
| 15 | I.Stage | 4832/20 | 39,0x24,3 | 946 | Sold |
| 16 | I.Stage | 4832/21 | 39,0x24,8 | 966 | Sold |
| 17 | I.Stage | 4832/53, 4832/42 | 35,0x28,5 | 999 | Sold |
| 18 | I.Stage | 4832/78 | 35,0x29,8 | 1044 | Sold |
| 19 | I.Stage | 4838/37 | 35,0x28,0 | 978 | Sold |
| 20 | I.Stage | 4838/66 | 35,0x30,8 | 1076 | Sold |
| 21 | I.Stage | 4838/65 | 35,0x30,6 | 1070 | Sold |
| 22 | I.Stage | 4838/38 | 35,0x28,0 | 980 | Sold |
| 23 | I.Stage | 4832/77 | 34,7x30,0 | 1042 | Sold |
| 24 | I.Stage | 4832/54, 4832/41 | 34,7x28,6 | 994 | Sold |
| 25 | I.Stage | 4832/22 | 34,7x25,4 | 880 | Sold |
| 26 | I.Stage | 4832/25 | 36,0x26,3 | 946 | Sold |
| 27 | I.Stage | 4832/56, 4832/40 | 36,0x28,8 | 1038 | Sold |
| 28 | I.Stage | 4832/76 | 35,8x30,0 | 1072 | Sold |
| 29 | I.Stage | 4838/40 | 36,2x28,0 | 1013 | Sold |
| 30 | I.Stage | 4838/63 | 36,2x30,3 | 1097 | Sold |
| 31 | II.Stage | 4838/62 | 35,0x30,2 | 1057 | Sold |
| 32A | II.Stage | 4838/41 | 17,5x28,0 | 490 | Sold |
| 32B | II.Stage | 4838/95 | 17,5x28,0 | 490 | Sold |
| 33 | II.Stage | 4832/75 | 35,0x30,1 | 1054 | Sold |
| 34 | II.Stage | 4832/57,4832/39 | 35,0x28,4 | 995 | Sold |
| 35 | II.Stage | 4832/26 | 39,0x27,3 | 1066 | Sold |
| 36 | II.Stage | 4832/27 | 39,0x27,6 | 1076 | Reserved |
| 37 | II.Stage | 4832/59 | 35,0x28,8 | 1006 | Sold |
| 38 | II.Stage | 4832/74 | 35,0x29,8 | 1047 | Sold |
| 39 | II.Stage | 4838/43 | 35,0x28,0 | 979 | Sold |
| 40 | II.Stage | 4838/60 | 35,0x30,1 | 1054 | Sold |
| 41 | II.Stage | 4838/59 | 39,0x30,5 | 1201 | Sold |
| 42 | II.Stage | 4838/44 | 37,2x28,2 | 1046 | Sold |
| 43 | II.Stage | 4832/73 | 35,8x29,7 | 1078 | Sold |
| 44 | II.Stage | 4832/60 | 35,2x28,7 | 1013 | Sold |
| 45 | II.Stage | 4832/28 | 39,0x27,3 | 1066 | Sold |
| 46 | II.Stage | 4832/29, 4832/38 | 35,0x28,9 | 1051 | Sold |
| 47 | II.Stage | 4832/62 | 35,0x29,0 | 1001 | Sold |
| 48 | II.Stage | 4832/72 | 34,6x29,4 | 1018 | Sold |
| 49 | II.Stage | 4838/46 | 35,0x28,0 | 979 | Sold |
| 50 | II.Stage | 4838/57 | 35,0x28,8 | 1009 | Sold |
| 51 | II.Stage | 4838/56 | 35,3x29,0 | 1025 | Sold |
| 52 | II.Stage | 4838/47 | 34,8x28,0 | 974 | Sold |
| 53 | II.Stage | 4832/71 | 35,1x29,3 | 1030 | Sold |
| 54 | II.Stage | 4832/63,4832/37 | 35,0x30,5 | 1073 | Sold |
| 55 | II.Stage | 4832/30 | 37,5x23,0 | 869 | Sold |
| 56 | II.Stage | 4832/31 | 48,2x20,6 | 997 | Sold |
| 57 | II.Stage | 4832/65,4832/35 | 24,1x29,2 | 701 | Sold |
| 58 | II.Stage | 4832/70 | 25,6x29,3 | 750 | Sold |
| 59 | II.Stage | 4838/49 | 31,4x28,0 | 877 | Sold |
| 60 | II.Stage | 4838/54 | 32,1x31,0 | 993 | Sold |
| 61 | II.Stage | 4838/53 | 41,0x33,0 | 1437 | Sold |
| 62 | II.Stage | 4838/50 | 30,0x28,2 | 849 | Sold |
| 63 | II.Stage | 4832/69 | 28,0x28,4 | 790 | Sold |
| 64 | II.Stage | 4832/66,4832/34 | 28,0x29,0 | 950 | Sold |